The Laguiole knife is probably the most famous and recognized French knife, in France and internationally.
But before the Laguiole, which had its first moment of glory around 1890, Aubrac had its very specific knife called the "Capuchadou" or "Capujadou". Its name comes from the Romanic verb capusar which means to scrape a piece of wood.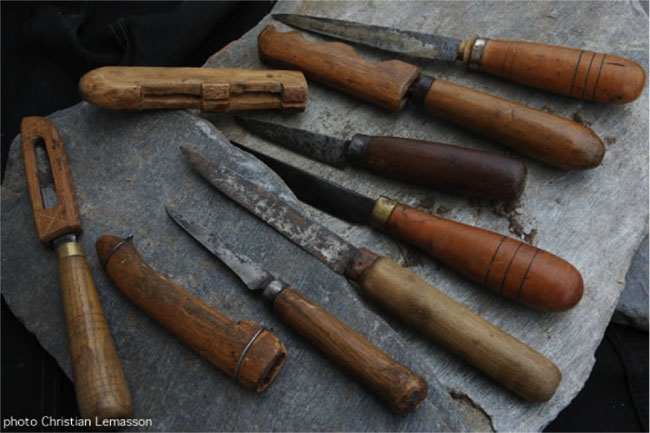 Life in Aubrac is difficult, peasants live poorly and are often owners of only small plots and/or a few animals… The buronniers often left the region in autumn for the capital to find winter employment. It was also common for groups of "buronniers" to leave for Catalonia (often to become pit sawyers). The peasants would then return to their homeland in early spring.
The birth of the Capuchadou knife
It is in this context that the Capuchadou was born. It probably originates from the area around Rodez, and was once made by these peasants with the materials they had on hand.
The Capuchadou (or Capujadou) is therefore since the dawn of time the knife of these peasants of Rouergue, Auvergne and Aubrac. It is a rustic knife, with a thick and pointed blade. This rustic knife did not close yet. Whether for eating, slaughtering, taking care of animals, or for self-defense, the Capuchadou was an indispensable daily tool for these workers of the land. Indeed, it was sometimes necessary to pierce the swollen belly of cows suffering from weathering (to save their lives, as they risked choking to death following the swelling) and the returns from the fair were not always without attacks from robbers and other mischief-makers. It was therefore traditionally slipped naked into the sleeve, into the pants, into the boot or stored in a wooden case.
Lieutadès is a small village in the Cantal at 900 m altitude. It is located on the first slopes of Aubrac, in Auvergne. Its inhabitants have a particularity : they are called the Capujadous. This nickname comes from an Occitan verb which means "to cut" (pieces of wood).
In the past, during the long winter evenings, they used their "capujadou" to cut the countless pegs that fixed the lauzes, the enormous stone slabs that are assembled to form the roofs. They cut so many of these pegs that the nickname has stuck to them.
The "new generation" Capuchadou knife is now made in our cutlery shop, you can also buy it online: www.capuchadou.fr.