Le Thiers® Nature Stabilized blue plane tree
Le Thiers® Nature Stabilized blue plane tree - DISPO-T7PLAB
Dear Customers,
Because of the health crisis related to the Coronavirus, our workshop is running in a slow motion in order to preserve the team' s health. All orders in progress are being manufactured and will be delivered to you with a slight delay, thank you for your apologies.
Fontenille Pataud adapts and offers you a special selection of knives  in stock and that will be sent to you within 24 hours. You will receive precisely the knife visible on the picture.
To thank you for your loyalty and to show you our solidarity: take advantage now of these products at special prices.
Take care of yourself and your loved ones.
Yann and all the Fontenille Pataud team.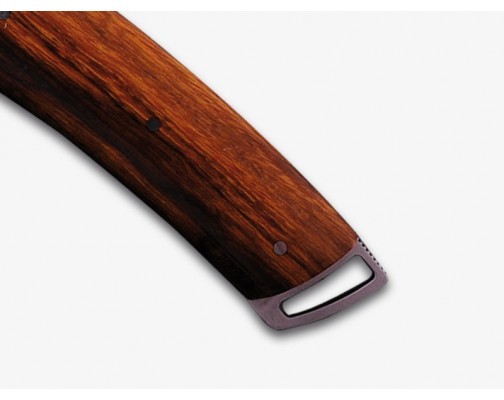 Lock-back sytem
Its solid blade is safely locked while using, thanks to its precision mechanism, in addition this mechanism provides smoothness while using.
Good handle/blade balance
To obtain a good handle/blade balance, a groove is milled in the back of the spring allowing the blade to fold in.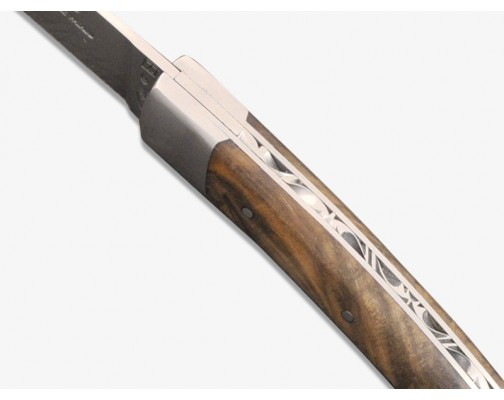 Hand chiseled spring
The spring is hand-chased with a file : This denotes artisan quality, unlike inexpensive mass market products that have welded springs and are machine decorated.
A paradix gave birth to this knife : Thiers, the Capital of French Cutlery, has a six-century knife experience gained in knife manufacturing. The city manufactured various type of regional knives and products for exports. Among them, le Normand, L'Aurillac, le Laguiole, l'Issoire...still being manaufactured there in Thiers area, their name referring to regions. 
Strangely enough, the craftsmen of the Thiers area had never claimed a common identity through an emblematic knife. Out of that common remark, came the idea of creating Le Thiers®, an emblematic knife, fruit of a collective brainstorming.
Le Thiers ® knife is a deposited model at the French National Institute of Industrial Property by the "Couteau de Thiers" brotherhood. This one round up knives lovers, professional and amateur, who want high quality in knives production like say the guild. Each manufacturer must validate is creation and maintain an very high quality level. 
This knife is the symbol of several centuries of know-how in the city of Thiers.
Technical details
This knife features precision mechanism with a secure back-lock.
Le Thiers® nature is a smaller & lighter version of our Le Thiers® Gentleman knife. From your pocket to the restaurant, it will soon become your favourite Every Day Carry.
Handcrafted in Thiers-France it is guaranteed by the Coute de Tie, the Guild which certifies authenticity of design. The name "Le Thiers ® Nature by Fontenille Pataud" is a tribute to our city of Thiers. Like Solingen in Germany or Sheffield in England, Thiers is since several centuries the hub of the French knives and cutlery industry. Le Thiers® Nature by Fontenille Pataud offers a good balance between the blade and the handle thanks to its special spring. A groove into the back of the spring allows the blade to fold in. Le Thiers ® Nature by Fontenille Pataud provides a secure locking blade, a smooth mechanism and a solid blade stop to keep a long edge to your blade. 
Handle : Stabilized and stained plane tree.
Blade : Stainless swedish 14C28N steel, 3 mm thick. Hardness: 58-59 Hrc. In order to provide a comfortable balance and a nicer knife, the blade tip folds into a groove which is milled into the spring.

Size and weight : 11.5 cm folded, 20cm open, approx. 100 grams.
Tecnical tips : The spring with its lock-back system is made from 3 mm thick stainless steel 100C6. A solid hardenned bladestop is provided: that helps maintain the edge of the blade.  The bee is solid and forged into the spring. The spring and bee are then hand-chased with a file:  this denotes artisan quality, unlike inexpensive mass market products that have welded springs and are machine decorated.  These details create a unique Le Thiers knife, making each knife one of a kind.
Included : Numbered Guarantee certificate, leather pouch. The pouch is an artisan product too, hand made in France.
My Laguiole arrived today and it is a real work of art, which I will treasure and eventually pass down to my son (not too soon I hope) One day I hope I will be in a position to buy a Damascus version.
Phil K. (UK)
Hello,Merci, Knife arrived yesterday, excellent finish to knife, very pleased with lettering.
Tjalling V. (Netherlands)
The Chamois that I ordered for my son came last week and it is beautiful. He is thrilled with it and I know will treasure it for the rest of his life.
Alex D. (USA)
Free Shipping
Take avantage of free shipping on our folding knives range.
Lifetime Guarentee
The quality of our manufacturing enables us to give you a lifetime manufacturer's guarantee.
Support
We shipped our knives worldwide since 1999.
100% Handmade in France
Fontenille Pataud was founded in 1929 and quickly became recognized as a manufacturer of high-end knives.