Le Thiers® Advance VG10 Scrimshaw
Le Thiers® Advance VG10 Scrimshaw - T6SCRIM10
Designed in close collaboration with Jean-Pierre Suchéras, twice "Meilleurs Ouvriers de France" (MOF), le Thiers® Advance by Fontenille Pataud is a forward-looking pocket knife. Thanks to its sleek design and efficient blade locking system, this knife will find its perfect place in your everyday life. In order to create a high quality Le Thiers® knife model, we selected the most precious and elegant materials: RWL34, VG10 or damascus steel for the blade, maple, stabilized poplar, mammoth ivory or Fat Carbon for the handle. Le Thiers® Advance is w
aiting for you.
Mid-lock system
Its solid blade is safely locked while using, thanks to its precision mechanism, in addition this mechanism provides smoothness while using.
Perfect everyday to carry
With its urban and slim design, the Thiers® Advance will very quickly become essential to your day-to-day life.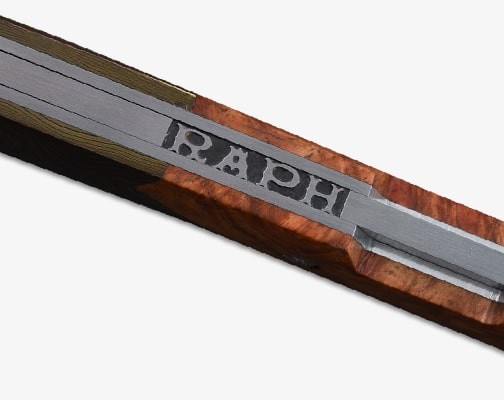 Customize your knife
Our specialty: Personalize your knife (first name, initials, date...) with a beautiful engraving of the spring produced by a professional engraver. The engraving is performed before the file work (guillochage) and the heat treatment.
A paradox gave birth to this knife: Thiers, the Capital of French Cutlery, has a six-century knife experience gained in knife manufacturing. The city manufactured various type of regional knives and products for exports. Among them, le Normand, L'Aurillac, le Laguiole, l'Issoire... still being manaufactured there in Thiers area, their name referring to regions. 
Strangely enough, the craftsmen of the Thiers area had never claimed a common identity through an emblematic knife. Out of that common remark, came the idea of creating Le Thiers®, an emblematic knife, fruit of a collective brainstorming.
Le Thiers ® knife is a deposited model at the French National Institute of Industrial Property by the "Couteau de Thiers" brotherhood. This one round up knives lovers, professional and amateur, who want high quality in knives production like say the guild. Each manufacturer must validate is creation and maintain an very high quality level. 
This knife is the symbol of several centuries of know-how in the city of Thiers.
In the Fontenille Pataud workshop, our craftsmen traditionally handmade outstanding knives for several generations, as usual in the city of Thiers. Each one of our knifemakers hopes to create especially for you a sustainable product that will become your every day to carry.

We are proud to say that our knives are handed down and offered from generation to generation, such as Le Thiers® with lock-back system, which allows a safe use. Much more than knives, our Le Thiers made in France are true life partners.
Technical details
This knife features precision mechanism with a secure mid-lock.
Scrimshaw made by Maxime, France.
We have asked Maxime to customize this real bone knife. He's working carefully with China ink. One of a kind knife : There is only 1 pcs to sell, and what you see is what you get. If someone order it before you, you will be told immediately and your CC will not be charged.
Designed in close collaboration with Jean-Pierre Suchéras, twice "Meilleurs Ouvriers de France" (highest reward of French craftsmanship), le Thiers® Advance by Fontenille Pataud is a forward-looking pocket knife. Thanks to its sleek design and efficient blade locking system, this knife will find its perfect place in your everyday life. Suminagashi sandwich steel consists of a VG10 core covered on each side by 33 layers of stainless steel: efficient cutting and one of a kind design.
Handle: Real cow bone.
Blade: Suminagashi VG10 stainless steel, 3 mm thick. Hardness: 59 Hrc. Suminagashi sandwich steel consists of a VG10 core covered on each side by 33 layers of stainless steel: efficient cutting and one of a kind design.

Size and weight: 11.5 cm folded, 20.5 cm open, approx. 90 grams.
Technical tips: The spring with its mid-lock sytem is made from 3 mm thick stainless steel. A solid hardenned bladestop is provided: that helps maintain the edge of the blade.
Included: Numbered Guarantee certificate, leather pouch. The pouch is an artisan product too, handmade in France.
Le Thiers® Advance knife designed in collaboration with Jean-Pierre Suchéras, M.O.F (Meilleurs Ouvriers de France = highest reward of French craftsmanship)
My Laguiole arrived today and it is a real work of art, which I will treasure and eventually pass down to my son (not too soon I hope) One day I hope I will be in a position to buy a Damascus version.
Phil K. (UK)
Hello,Merci, Knife arrived yesterday, excellent finish to knife, very pleased with lettering.
Tjalling V. (Netherlands)
The Chamois that I ordered for my son came last week and it is beautiful. He is thrilled with it and I know will treasure it for the rest of his life.
Alex D. (USA)
Free Shipping
Take avantage of free shipping on our folding knives range.
Lifetime Guarentee
The quality of our manufacturing enables us to give you a lifetime manufacturer's guarantee.
Support
We shipped our knives worldwide since 1999.
100% Handmade in France
Fontenille Pataud was founded in 1929 and quickly became recognized as a manufacturer of high-end knives.