The yellow gentian grows on the Aubrac plateau between 800 and 1300 meters above the see level. It can be 2 meters high this is why its nickname is "the green skyscraper". It takes 20 years to the plant to have its adult size. Some pretty little yellow flowers appear after 8 or 10 years of leaving and flowers every two years. However, it is the roots, called rhizome, that are used for several things: they are thick and can be 1 meter long and weight 5 kg.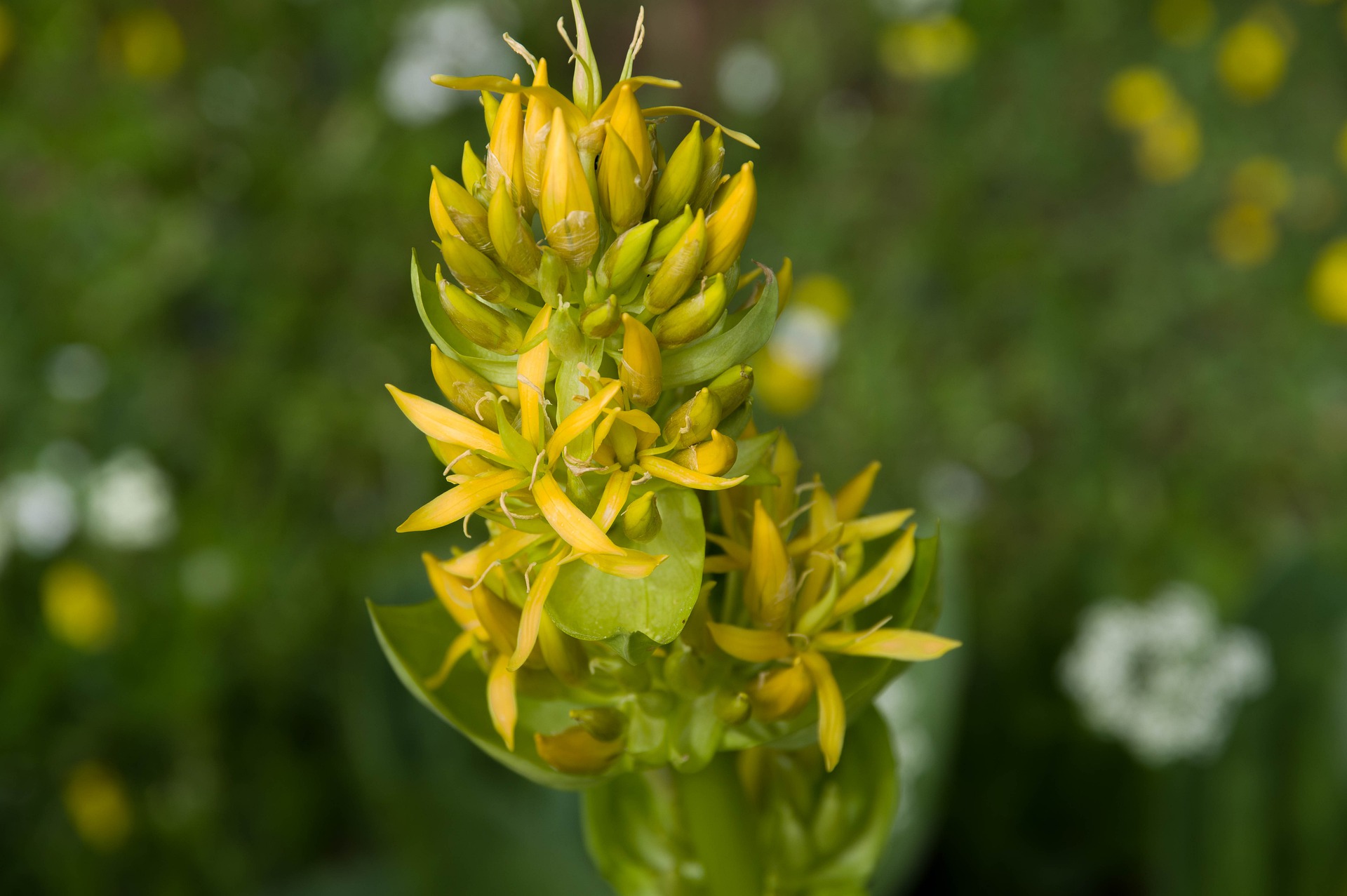 In order to harvest the rhizomes, we call on a man cold "gentianaire" or "gençainaire" in the local dialect. The roots are deeply buried in the ground and it is a gargantuan task to extract them from the earth. It can only be made by hand. They start the extraction in June until October. To collect, the farmer uses to specific tools:
– A pickaxe, called "anchor" that was used as a lever to unearth the rhizomes;
– the "Evil garden fork", used nowadays, is a steel garden fork that is at least 12,5 kg.
This fork is narrow and the tine is made of two long teeth that are straight or slightly curved. They are usually 1 meter long. The teeth have been reinforced in order to make easier the removing and to resist the pressure due to the roots extraction. On the fork you can also find a footboard or two toe-clips on which the farmer jump in order to sink the teeth in the ground. A great "gentianaire" can remove from 200 to 300 kg of rhizome per day using only its arms strength.
The harvest of the day is placed into big jute bags that allow air to enter in order to avoid fermentation. Afterwards, they clean the roots with their Laguiole knife. They have to work very patiently and carefully to withdraw the soil and cut the buds.
The roots cargo is delivered to the cooperative where it is going to:
– Be macerated and distilled. Then the liquor and aperitifs can be produced. Gentian is also used to produce local drinks in other countries as in Switzerland, Italy, Germany, Austria…
– Be dried in glasshouses for 3 weeks et sold during winter to created pharmaceutical and herbalist products.
The gentian root is used since Antiquity because of its digestives, tonic, purgative, refreshing, fortifying (etc.) virtues… It is on the medicinal plants list. It is also used to stimulate appetit.
As the « gentianaires » of Aubrac, have a look to the size of the yellow gentian, then you will know the height of the snow during the next winter!