The Fontenille Pataud house was founded in 1929. It quickly became recognized as a manufacturer of high-end table knives. They were admired and revered for their expertise and use of ivory, horn and other fine wood.
As a testimony to their craft, some of these knives are permanently on display at the French knife museum in Thiers, France. This tradition of quality and beauty continued through the years, including management and ownership changes.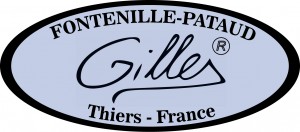 Gilles Steinberg acquired Fontenille-Pataud in 1994. The sale was more than simple business. The previous owner, Mr. Bargoin, selected Gilles to continue the Fontenille-Pataud business. He was confident that Gilles, with his hard work ethic and his passion for tradition would be well suited to use his youthful skills to bring the company into the quickly changing marketplace.
Change is inevitable. With convenience, technology and globalization, today's consumer faces a plethora of choices. Plastic handles, Chinese imports and clever marketing provided consumers with choices on quality, price and confusion. Fontenille -Pataud chose to leave the mass market mess by re-positioning its business and product line.
In 1995, Gilles began to concentrate its business on the French pocket knife. Popular and diverse, the Laguiole pocket knife has a world-wide audience familiar with the intricacies of material choice and workmanship. Their success became clear as the
Gilles®

trademark
adorned each knife since 1997.Fontenille-Pataud is very proud of our continued success. Our customers and their testimonials speak to the
Gilles®
difference. Our products do not compromise on quality.
Unfortunately, not all knife makers share this view. Whether from abroad or in our own backyard, we witness products with poor quality, inexpensive pricing and arrogant marketing claims (which rarely reflect the truth). But in today's world, this has become common. It is the consumer's choice.
Our choice is quality over quantity. We want –and are– proud of the knives we sell. We offer a wide range of product offerings. Our French regional knives from the Corsican (in collaboration with
the Zuria family
) to the folding Laguiole are embraced for their function as well as their form. Collector knives are an extraordinary addition for the most discerning owner. Damascus steel joins with ivory handles, tied with sterling silver wire and held by beautiful bolsters to create a true work of art.Fontenille-Pataud is the first French knife manufacturer to sell on the world-wide web. In 2000, the French government recognized our firm's achievements and presented an award in small business. We have also been awarded
the "Living Heritage"
. Owner Gilles Steinberg is a "Maître Artisan", or Master Artist in fine knife and table cutlery.
We participate in three international trade shows. We are proud of our global customer base. It is a tribute to a world-wide appreciation for the traditional arts and an awareness that true quality and integrity knows no boundaries. We look forward to working with you !