5 Coqs knife Damascus Range Stabilized poplar burl
5 Coqs knife Damascus Range Stabilized poplar burl - 5CLPDI4
We have used the typical old fashion French shape and design (Yssingeaux knife) to create a modernized knife : Solid spring, easy opening system, lock back, high-end steels.
Customize your knife
Our specialty: Personalize your knife (first name, initials, date...) with a beautiful engraving of the spring produced by a professional engraver. The engraving is performed before the file work (guillochage) and the heat treatment.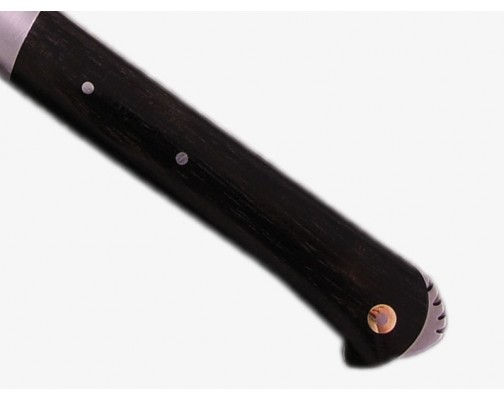 Lock-back sytem
Its solid blade is safely locked while using, thanks to its precision mechanism, in addition this mechanism provides smoothness while using.
Hand chiseled and forged spring
The bee is solid and forged into the spring. The spring and bee are then hand-chased with a file : This denotes artisan quality, unlike inexpensive mass market products that have welded springs and are machine decorated.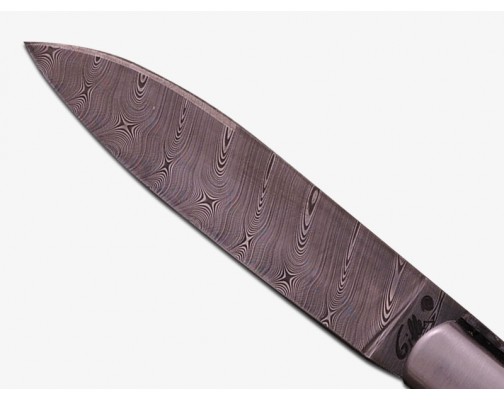 Stainless steel damascus blade
The Damascus steel we're using is from Damasteel® and the patterns will last the life of the knife.
The Yssingeaux knife was born in Auvergne late 18th century and was the first knife with a a corbin shaped handle,  it was then replicated by many other regional knives: "Laguiole droit" and "Issoire" for example. Another distinctive feature of the Yssingeaux knife is its "bourbonnaise" blade with a centered tip.
Yssingeaux, pronunciation " I – SIN – JO"  in the local dialect: SIN means five while JO means cockerel, is a small town in our Auvergne region.
In the Fontenille Pataud workshop, our craftsmen traditionally handmade outstanding knives for several generations, as usual in the city of Thiers. Each one of our knifemakers hopes to create especially for you a sustainable product that will become your every day to carry.

We are proud to say that our knives are handed down and offered from generation to generation, such as the Coqs with lock-back system, which allows a safe use. Much more than knives, our 5 Coqs made in France are true life partners.
Technical details
oupe d'mouretteThe 5 cockerels-5 coqs name comes from YSSINGEAUX (pronunciation " I – SIN – JO" in the local dialect SIN means five while JO means cockerel, therefore 5 cockerels), a small town in our Auvergne region. We have used the typical old fashion French shape and design to create a modernized knife: Solid spring, easy opening system, lock back,  high-end steels… A special nod toward the cockerel, our national emblematic animal visible on the back of the handle. The knife can be easily folded while pushing on the rooster crest.
Handle: Stabilized poplar burl. Stunning patterned wood, 5.5 mm slabs.
Blade: Rose pattern 120 layers Damascus stainless steel, 3 mm thick. Hardness: 60 Hrc. 
Size and weight: 11 cm folded, 19.5 cm open, approx. 100 grams
Technical tips: The spring with its lock-back system is made from 3 mm thick stainless steel Z20c13. A solid hardenned bladestop is provided: That helps maintain the edge of the blade. Easy openning and folding smooth system. 
Plates & bolsters: Stainless steel on 1.2 mm thick plates.
Included: Numbered Guarantee certificate, leather pouch. The pouch is an artisan product too, handmade in France.
My Laguiole arrived today and it is a real work of art, which I will treasure and eventually pass down to my son (not too soon I hope) One day I hope I will be in a position to buy a Damascus version.
Phil K. (UK)
Hello,Merci, Knife arrived yesterday, excellent finish to knife, very pleased with lettering.
Tjalling V. (Netherlands)
The Chamois that I ordered for my son came last week and it is beautiful. He is thrilled with it and I know will treasure it for the rest of his life.
Alex D. (USA)
Free Shipping
Take avantage of free shipping on our folding knives range.
Lifetime Guarentee
The quality of our manufacturing enables us to give you a lifetime manufacturer's guarantee.
Support
We shipped our knives worldwide since 1999.
100% Handmade in France
Fontenille Pataud was founded in 1929 and quickly became recognized as a manufacturer of high-end knives.