"Le Capuchadou®-Guilloché" 10 cm handmade knife, Stag
"Le Capuchadou®-Guilloché" 10 cm handmade knife, Stag - CAP10BCTG
Fontenille Pataud, the makers of the finest cutlery are proud to reissue and interpret the ancestor of the Laguiole knife. Their excellence in manufacturing will ensure that this knife will prove to be the perfect gift or purchase for all connoisseurs and collectors.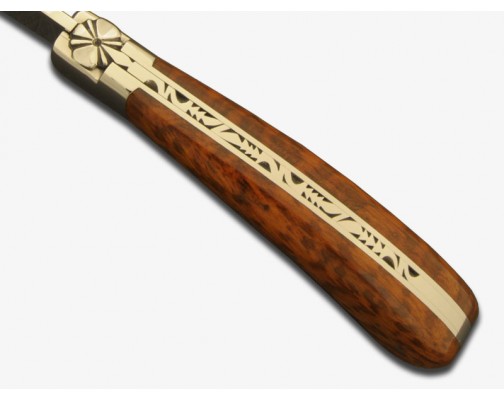 Hand chiseled and forged spring
The bee is solid and forged into the spring. The spring and bee are then hand-chased with a file : This denotes artisan quality, unlike inexpensive mass market products that have welded springs and are machine decorated.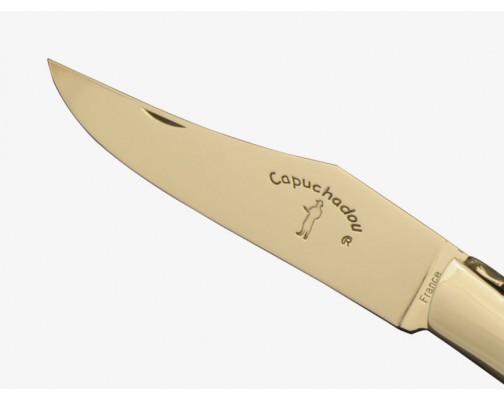 12C27 Stainless steel blade
The beauty of your blade is guarenteed for lifetime. We also offer a 60Hrc hardenned special RWL34 swedish powder stainless steel for those who love knives with a longer sharp edge.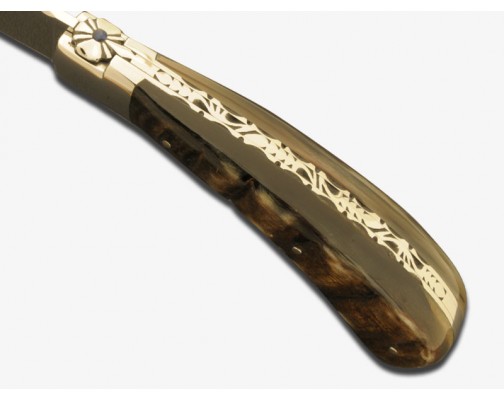 The "GUILLOCHE" pattern is our premium range
The "GUILLOCHE" pattern is our premium range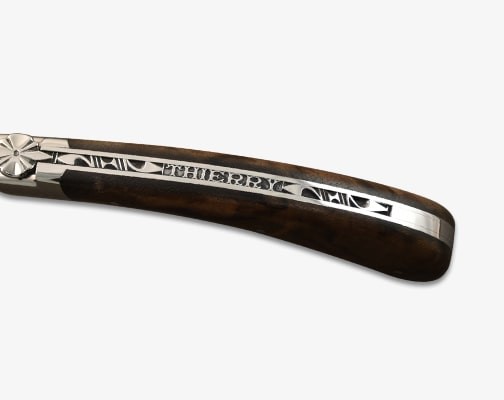 Customize your knife
Our specialty: Personalize your knife (first name, initials, date...) with a beautiful engraving of the spring produced by a professional engraver. The engraving is performed before the file work (guillochage) and the heat treatment.
In the Fontenille Pataud workshop, our craftsmen traditionally handmade outstanding knives for several generations, as usual in the city of Thiers. Each one of our knifemakers hopes to create especially for you a sustainable product that will become your every day to carry.

We are proud to say that our knives are handed down and offered from generation to generation, such as the Capuchadou knife, which features a forged bee and a hand chiseled spring. Much more than knives, our Capuchadou made in France are true life partners.
Technical details
The "Guilloché" pattern is our premium range: the spring is inlayed with a Natural gemstone, and you will take advantage of an extra file work on the plates and the blade's top.
Size and weight: 10 cm folded, 17 cm open, approx. 90 grams
Handle & Gemstone: 1st quality stag horn.There is a Lapis Lazuli inlayed into the "Shamrock" spring.
Blade: Stainless swedish 12C27 steel, 3 mm thick. Hardness: 56 Hrc.
Technical tips: The bolsters are made of solid stainless steel. The spring is made from 3 mm thick stainless steel Z20c13 and features a bladestop: That helps maintain the edge of the blade. The whole "shamrock" spring is hand-chased with a file: This denotes artisan quality, unlike mass market products that have welded springs and are machine decorated. The file work and these details create a unique knife, making each knife one of a kind. 
Included: Numbered Guarantee certificate, and a leather pouch.
My Laguiole arrived today and it is a real work of art, which I will treasure and eventually pass down to my son (not too soon I hope) One day I hope I will be in a position to buy a Damascus version.
Phil K. (UK)
Hello,Merci, Knife arrived yesterday, excellent finish to knife, very pleased with lettering.
Tjalling V. (Netherlands)
The Chamois that I ordered for my son came last week and it is beautiful. He is thrilled with it and I know will treasure it for the rest of his life.
Alex D. (USA)
Free Shipping
Take avantage of free shipping on our folding knives range.
Lifetime Guarentee
The quality of our manufacturing enables us to give you a lifetime manufacturer's guarantee.
Support
We shipped our knives worldwide since 1999.
100% Handmade in France
Fontenille Pataud was founded in 1929 and quickly became recognized as a manufacturer of high-end knives.