Corsican L'Antò Classic Range the Sculpted Amourette
Corsican L'Antò Classic Range the Sculpted Amourette - AZAS
This knife features an original locking blade system: the "palanquille", safe and very comfortable to use: to close the knife, just lift the lever! Created in collaboration with the Zuria family, L' Antò will quickly become your perfect EDC. 
Customize your knife
Our specialty: Personalize your knife (first name, initials, date...) with a beautiful engraving of the spring produced by a professional engraver. The engraving is performed before the file work (guillochage) and the heat treatment.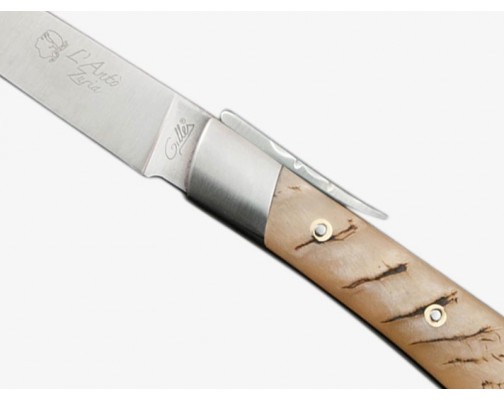 Locking blade system
Its solid blade is safely locked while using, thanks to its precision mechanism, to close the knife, just lift the lever : smooth and safe.
Hand chiseled spring
The spring is hand-chased with a file: this denotes artisan quality, unlike inexpensive mass market products that are machine decorated.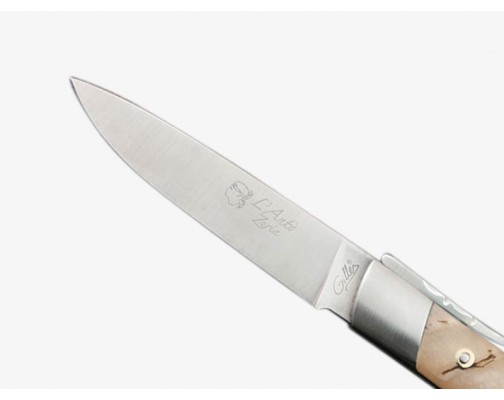 14C28N Stainless steel blade
The beauty of your blade is guarenteed for lifetime. We also offer a stainless steel Damascus blade: the beauty of the patterns will be preserved over time.
Corsica is a real land of knives since antiquity and the Corsican cutlery industry has become a real tradition. 
There is no such thing as a "Corsican knife" but "Corsican knives"! 
Like many farming areas, the Corsican knife was first and foremost a tool used by farmers for their daily work. 
Since then, Corsican knives have followed their history with new models that combine tradition and modernity.
In the Fontenille Pataud workshop, our craftsmen traditionally handmade outstanding knives for several generations, as usual in the city of Thiers. Each one of our knifemakers hopes to create especially for you a sustainable product that will become your every day to carry.

We are proud to say that our knives are handed down and offered from generation to generation, such as the Corsican knives with locking system, which allows a safe use. Much more than knives, our Corsicans made in France are true life partners.
Technical details
Easy openning and secure blade lock system.
"L'Antò" has been created with the Zuria family (Bonifacio - Corsica) and Robert Beillonnet (Awareded skillest custom French knife maker in 1997 and 2000). This knife features an original locking blade system: the "palanquille", safe and very confortable to use, and a solid blade stop to keep a long last edge.
Handle: First choice amourette.
Blade: 3mm thick stainless steel Sandvik 14C28N, hardnesss: 58-59 Hrc.
Size and weight: 12cm folded, 21cm open, approx. 130grams.
Technical tips: Hand chiseled spring. The spring is made from 3 mm thick stainless steel Z20c13. A solid hardenned bladestop is provided: That helps maintain the edge of the blade. Easy openning and folding smooth system. 
Included: Numbered Guarantee certificate, leather pouch. The pouch is an artisan product too, handmade in France.
My Laguiole arrived today and it is a real work of art, which I will treasure and eventually pass down to my son (not too soon I hope) One day I hope I will be in a position to buy a Damascus version.
Phil K. (UK)
Hello,Merci, Knife arrived yesterday, excellent finish to knife, very pleased with lettering.
Tjalling V. (Netherlands)
The Chamois that I ordered for my son came last week and it is beautiful. He is thrilled with it and I know will treasure it for the rest of his life.
Alex D. (USA)
Free Shipping
Take avantage of free shipping on our folding knives range.
Lifetime Guarentee
The quality of our manufacturing enables us to give you a lifetime manufacturer's guarantee.
Support
We shipped our knives worldwide since 1999.
100% Handmade in France
Fontenille Pataud was founded in 1929 and quickly became recognized as a manufacturer of high-end knives.