Yssingeaux Shepherd's Knife Classic Range Ironwood
Yssingeaux Shepherd's Knife Classic Range Ironwood - YBF
The Fontenille Pataud difference: our choice is quality over quantity. We want -and are- proud of the knives we sell. We offer a wide range of product offerings.
Customize your knife
Our specialty: Personalize your knife (first name, initials, date...) with a beautiful engraving of the spring produced by a professional engraver. The engraving is performed before the file work (guillochage) and the heat treatment.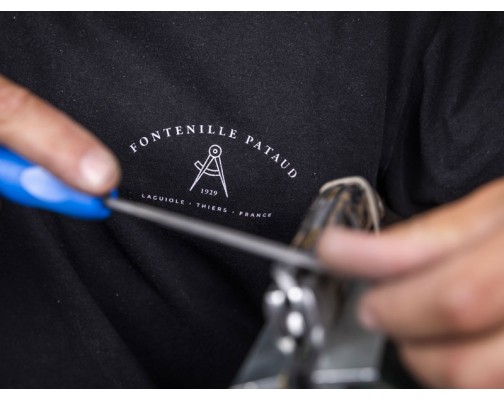 Handmade in France by Fontenille Pataud
Our choice is quality over quantity. We want -and are- proud of the knives we sell.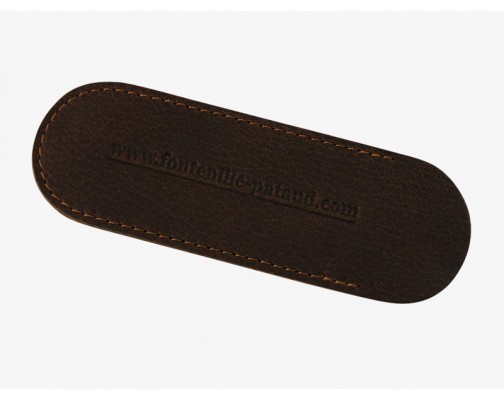 Leather pouch made in France included
The pouch is an artisan product too, hand made in France.
The Yssingeaux knife was born in Auvergne late 18th century and was the first knife with a a corbin shaped handle,  it was then replicated by many other regional knives: "Laguiole droit" and "Issoire" for example. Another distinctive feature of the Yssingeaux knife is its "bourbonnaise" blade with a centered tip.
Yssingeaux, pronunciation " I – SIN – JO"  in the local dialect : SIN means five while JO means cockerel, is a small town in our Auvergne region.
In the Fontenille Pataud workshop, our craftsmen traditionally handmade outstanding knives for several generations, as usual in the city of Thiers. Each one of our knifemakers hopes to create especially for you a sustainable product that will become your every day to carry.

We are proud to say that our knives are handed down and offered from generation to generation, such as our high-end French folding. Much more than knives, they are true life partners.
Technical details
An other classical french shepherd's knife , not as known as Laguiole, but what we make upon same quality standards.


Handle : Ironwood (Origin : USA) 8 mm thick scales. 

Blade :3 mm thick stainless steel Sandvik 12c27, hardness : 56-57 Hrc. 
Size & Weight :11 cm folded, 19.5 cm opened , approx 90 g.
Spring & Bladestop : The spring is made from a 3mm thick stainless steel. A solid bladestop is provided on all of our springs : that shall keep a long time the edge of the blade. Instead of the traditional solid bee we decided to make a genuine MOP (mother of pearl) inlay : that makes the knife superb & very exclusive. Also notice than the whole spring is hand chased with a file.
Plates & bolsters: Stainless steel on 1.2 mm thick plates.
Assembling :traditional hand made nickelsilver rivets.
Included : numbered guarantee certificate, simple leather pouch.
My Laguiole arrived today and it is a real work of art, which I will treasure and eventually pass down to my son (not too soon I hope) One day I hope I will be in a position to buy a Damascus version.
Phil K. (UK)
Hello,Merci, Knife arrived yesterday, excellent finish to knife, very pleased with lettering.
Tjalling V. (Netherlands)
The Chamois that I ordered for my son came last week and it is beautiful. He is thrilled with it and I know will treasure it for the rest of his life.
Alex D. (USA)
Free Shipping
Take avantage of free shipping on our folding knives range.
Lifetime Guarentee
The quality of our manufacturing enables us to give you a lifetime manufacturer's guarantee.
Support
We shipped our knives worldwide since 1999.
100% Handmade in France
Fontenille Pataud was founded in 1929 and quickly became recognized as a manufacturer of high-end knives.