Rouen city old "cow's tail" knife Ebony
Rouen city old "cow's tail" knife Ebony - ROUE
The Fontenille Pataud difference: our choice is quality over quantity. We want -and are- proud of the knives we sell. We offer a wide range of product offerings.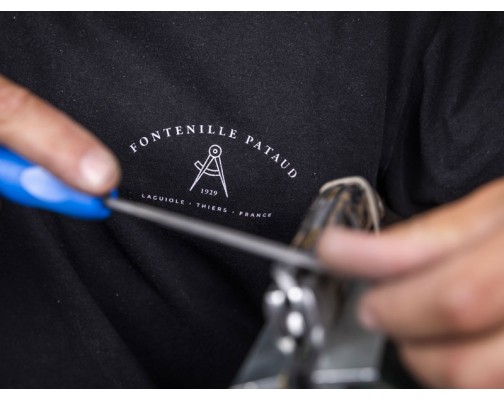 Handmade in France by Fontenille Pataud
Our choice is quality over quantity. We want -and are- proud of the knives we sell.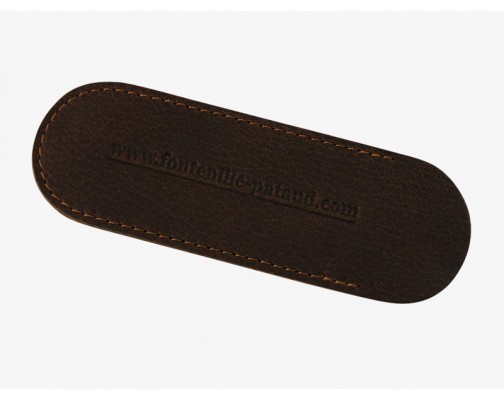 Leather pouch made in France included
The pouch is an artisan product too, hand made in France.
Manufactured from 1890, Rouennais was intended for Norman and Picardy farmers and herders. It is above all a country knife, essential for breeders who appreciated its sharpness and even used it to clean cow's tails, hence its nickname "cow's tail".
In the Fontenille Pataud workshop, our craftsmen traditionally handmade outstanding knives for several generations, as usual in the city of Thiers. Each one of our knifemakers hopes to create especially for you a sustainable product that will become your every day to carry.

We are proud to say that our knives are handed down and offered from generation to generation, such as our high-end French folding. Much more than knives, they are true life partners.
Technical details
A very old model of knife what was sold in the Rouen region. It used to be called "cow's tail" and were used by the local farmers.
Handle: 1st choice ebony wood
Blade, spring and plates: 12c27 stainless steel for the blade, carbon steel for the spring, brass for the liners.
Size & Weight: 11 cm when folded, 19.5 cm open, approx 70 g.
Assembling: traditional handmade nickel silver rivets.
Included: genuine leather pouch.
My Laguiole arrived today and it is a real work of art, which I will treasure and eventually pass down to my son (not too soon I hope) One day I hope I will be in a position to buy a Damascus version.
Phil K. (UK)
Hello,Merci, Knife arrived yesterday, excellent finish to knife, very pleased with lettering.
Tjalling V. (Netherlands)
The Chamois that I ordered for my son came last week and it is beautiful. He is thrilled with it and I know will treasure it for the rest of his life.
Alex D. (USA)
Free Shipping
Take avantage of free shipping on our folding knives range.
Lifetime Guarentee
The quality of our manufacturing enables us to give you a lifetime manufacturer's guarantee.
Support
We shipped our knives worldwide since 1999.
100% Handmade in France
Fontenille Pataud was founded in 1929 and quickly became recognized as a manufacturer of high-end knives.