Set of 6 Laguiole Forged Steak Knives Real bone
Set of 6 Laguiole Forged Steak Knives Real bone - LTC6OS
Our Laguiole cutlery carries a lifetime guarantee. This is for normal use only. It is NOT dishwasher safe. 100% Made in France by Fontenille Pataud.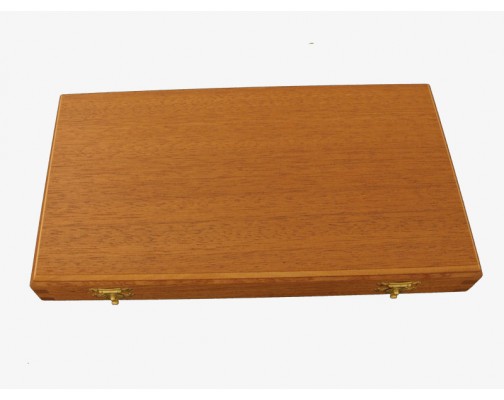 Wooden box included
Vernished wooden box ( Made in France ) included
In the Fontenille Pataud workshop, our craftsmen traditionally handmade outstanding knives for several generations, as usual in the city of Thiers. Each one of our knifemakers hopes to create especially for you a sustainable product that will become your every day to carry.

We are proud to say that our knives are handed down and offered from generation to generation, such as our high-end made in France tableware. Much more than knives, they are true life partners.
Technical details
The highest quality Laguiole steak knife you can get: 23 cm not folding blade, 90 grams, made from one single forged piece of Z40C13 stainless steel. 
Lifetime guarantee (normal use only).

Handle: Real cow bone with the traditional shepherd's cross inlayed. The handle is thick (very rare with bone handles) and comfortable when you're eating.
Sharpness: The blade is sharpened for a long time with our traditional sharpening.
Warranty: Our Laguiole cutlery carries a lifetime guarantee. This is for normal use only. It is NOT dishwasher safe.
 
Vernished wooden box (Made in France) included.
Choose the assortment which will suit your needs
The Laguiole cutlery set is one the best French-made equipment found on the market. This production is done by master cutlers, who put forward their passion and expertise in the traditional French manufacturing of cutlery. The materials used to produce those tools are carefully selected to be of highest quality. Entirely hand-made by our expert cutlers, you will find our unique models of premium utensils on our webpage, Fontenille Pataud. Our firm located in Thiers, in France, brings you these prestigious products. If you are looking for a Laguiole cutlery set, we present you our small as well as large collections of these French-made utensils. You will find on our online shop, various models of carving and dining sets as well as many other combinations, suitable to your needs and desires.
An exquisite display and an unfailing performance
Our different assortments come with diverse handles. To carry on with the traditional French fabrication, the grips of our products are manufactured in exotic woods such as rosewood or maple, and even in horns and bones. You will find collections of two to twenty-four utensils, consisting of either only knives, forks or spoons, to a combination of them all. The elegant iconic bee is neatly featured on each of our handcrafted tools along with the Shepherd's cross, for a dazzling appearance. We make sure that our authentic products are impeccable and satisfy your highest expectations. Their looks are charming and exclusive, and will perfectly beautify your kitchen space and table setting. Leaf through our online catalogue to discover each of our Laguiole cutlery set, to find the suitable combination of the utensils you need. With a regular maintenance of your cutleries, they will assure a life-long efficiency and elegance.
My Laguiole arrived today and it is a real work of art, which I will treasure and eventually pass down to my son (not too soon I hope) One day I hope I will be in a position to buy a Damascus version.
Phil K. (UK)
Hello,Merci, Knife arrived yesterday, excellent finish to knife, very pleased with lettering.
Tjalling V. (Netherlands)
The Chamois that I ordered for my son came last week and it is beautiful. He is thrilled with it and I know will treasure it for the rest of his life.
Alex D. (USA)
Free Shipping
Take avantage of free shipping on our folding knives range.
Lifetime Guarentee
The quality of our manufacturing enables us to give you a lifetime manufacturer's guarantee.
Support
We shipped our knives worldwide since 1999.
100% Handmade in France
Fontenille Pataud was founded in 1929 and quickly became recognized as a manufacturer of high-end knives.