the Yssingeaux knife

To introduce the 5 Roosters, we must first introduce the knife from which it is inspired, the Yssingeaux...
Yssingeaux, a town in the south of Auvergne, has a very particular meaning: "Jaux" in Auvergne dialect means "roosters" and by extension "çin- jaux" is therefore the town of the 5 Roosters, a special nod to this emblematic animal of our country. The city still proudly displays the gallinaceous animal on its coat of arms!

The land around the city was used for the cultivation of prized lentils, as well as for the breeding of local sheep and mules for the profitable Spanish market. However, until the end of the 18th century, there were few traces of cutlers, only blacksmiths. Thereafter, cutlery as such in Yssingeaux quickly disappeared as production was moved to Thiers. It was in Thiers that the shape of the cutlery was modernized to be closer to the Issoire with more rounded shapes and two bolsters. It is in the hands of the Thiers salesmen and wholesalers that the reputation of the knife grew until it became a best-seller, even beyond its own territory.

The Yssingeaux was born in Auvergne at the end of the 18th century and was the first knife with a corbin beak. It was then imitated by many other regional knives. It is therefore quite similar to the Laguiole knives of the 19th century before they adopted the famous Yatagan blade and the curved beak that we no longer present. Other distinctive features of the Yssingeaux knife are its rustic appearance, its Bourbonnaise blade with a centered point, its "smooth" spring, its steel head bolster or the "hornbill" shape of the handle. As for the ribs, they are most often made of horn or wood, abundant and essential materials for peasant knives. It is a knife appreciated for its good holding in hand and in the pocket.
Thus was born the 5 Roosters knife, with its "forged fly" spring and its ridge at the bottom of the handle that acts as a back pump, allowing the blade to close.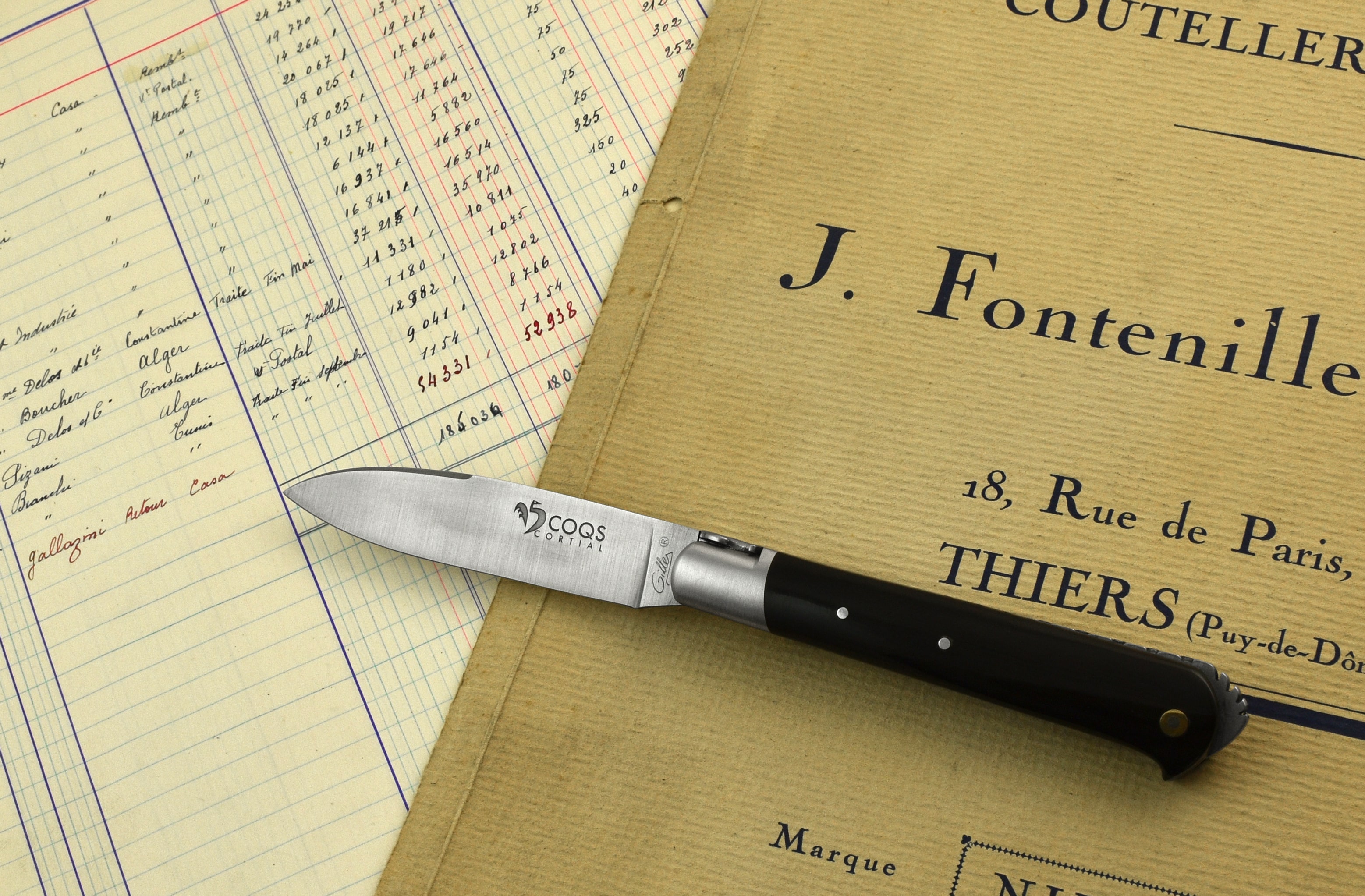 The 5 Coqs, heir to the Yssingeaux

The 5 Roosters by Fontenille Pataud is a knife that comes from the French cutlery tradition but is nevertheless modern in its technicality: blade stop, easy opening, blade blocking, high quality steel.... It was created in collaboration with Robert Beillonnet (MOF) and Jacky Cortial, a cutler from Yssingel.