What is "guilloché"?


Guilloché is an intaglio engraving technique based on the removal of material. Dating back to the 16th century, it consists in decorating a surface with parallel lines, straight or curved lines that may or may not intersect.

Guilloché is not limited to cutlery: the process can be found in many other sectors, such as watchmaking
watchmaking, architecture, jewelry, armory, tapestry and cabinetmaking.
and cabinetmaking. A little anecdote: guilloché is also used on banknotes and
banknotes or identity documents as a security feature to make it harder for counterfeiters to
the task of counterfeiters.
In the watchmaking industry, for example, the term "master guillocheur" is used to describe the craftsman who has mastered the art of guilloche.

the craftsman who perfectly masters this technique to decorate the most
watches.

Whatever the field, the challenge for the craftsman is to keep the patterns
symmetrical and regular patterns!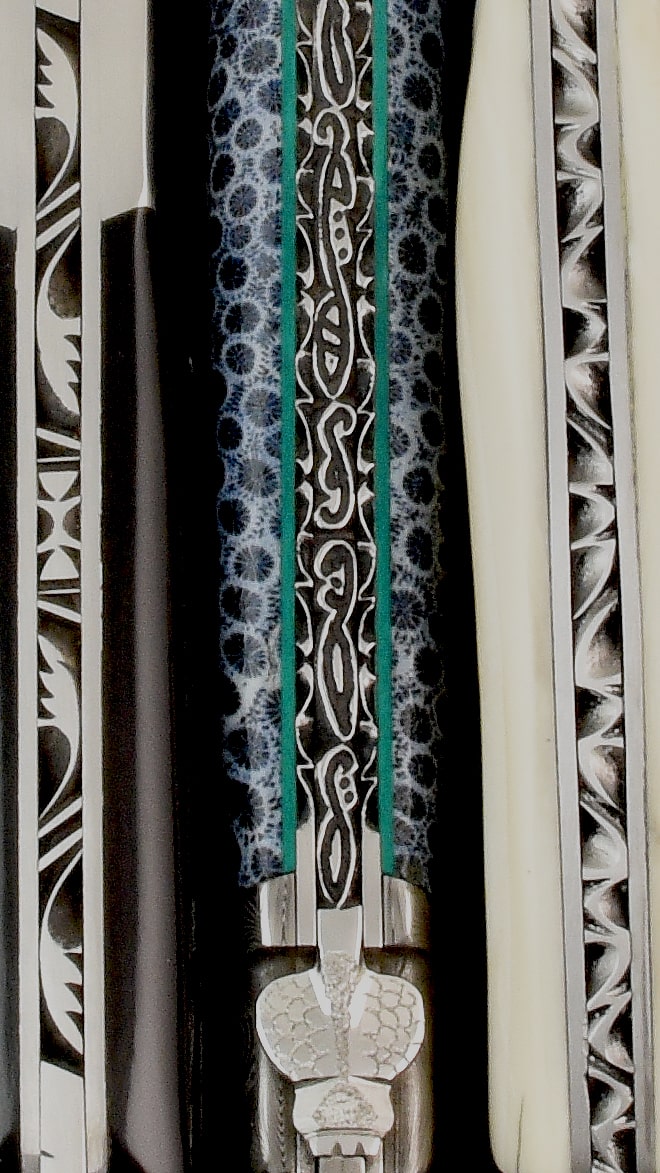 Examples of "guillochés" knives.
The origins of guilloché are little-known, but it is thought to have been inspired by architectural decorations
by Italian artists in the sixteenth century.
sixteenth century. Thus, "goccia" (drop) is said to have given rise to "ghiocciare", an ancient term
term translated as "guillocher".


A second theory attributes the origin of the word to a French worker named
Guillot who, at the end of the 18th century, invented a pedal-driven machine tool
for engraving interlaced curves, which lent itself perfectly to watch
watch decoration.


In cutlery, guillochage is used to decorate blades, springs or plates by
by removing material with a file, cutter or chisel. Most often
is symmetrical and consists of intertwined lines and curves.
curves. It is performed with tools of different shapes and sizes on steel
steel for metal parts, but the technique can also be applied to wood
wood, horn or mammoth ivory. This work requires
time to master every stroke of the file to obtain the desired
to achieve the desired effect.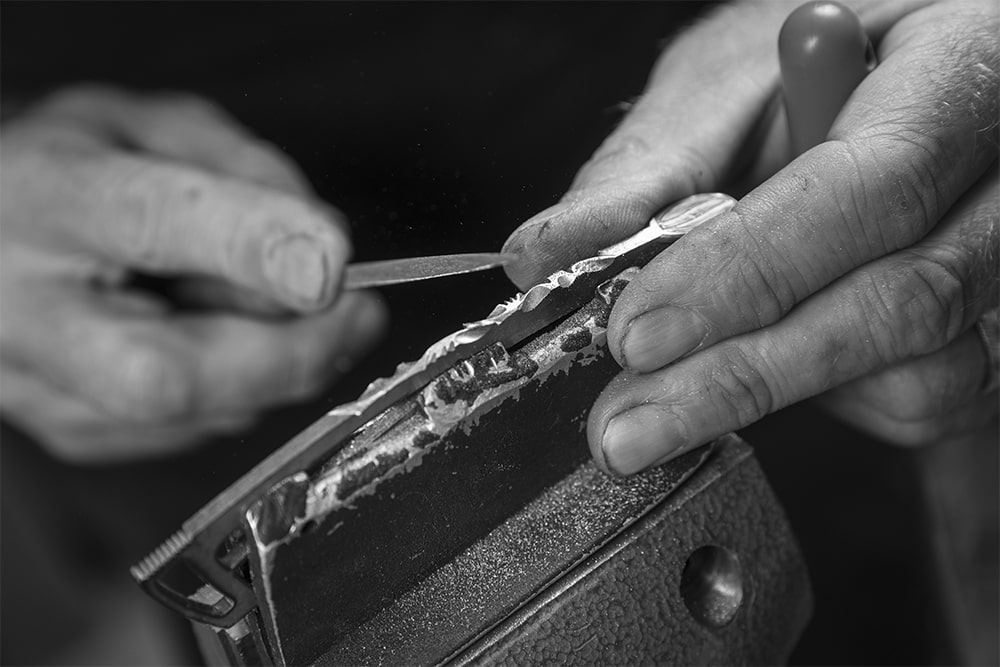 One of our craftman working on a "guillochage".

Even if this work has been mechanized over the years, in traditional cutlery
workshops like ours, this work is still carried out freehand, using tools of different
tools of different shapes and sizes.
In our workshop, we deliberately don't offer a "catalog" of our various predefined
predefined guilloches, and never impose a particular model. The aim of this
not to restrict the creativity of our cutlery craftsmen, who are constantly
who are constantly inventing new designs and developing their techniques.
It's often said that guilloché is the cutler's "signature". Even though our
master several motifs and are constantly inventing new ones, they all have their own
all have their own distinctive style.
You'll find these different styles on the various pages of our website.
site and you'll notice different styles: floral

The "guilloché" range

The guilloche pattern is not limited to one part of the knife.
our "classic" Laguiole ranges, for example, all models feature a guilloché spring
spring as standard, but we also offer the "guilloché" version, which is more
this variant is more expensive, as the hand-work is even more substantial.
handwork. Indeed, in addition to the spring, the back of the blade and the inner and outer
are also decorated using this technique.
Photo of Laguiole "full guilloche" back


Fine "guilloché" range


Guilloché work can be more or less delicate, depending on the motif chosen
or the size of the knife. Fine" guilloche work will be most effective on
exceptional materials, such as a damascus steel blade with a mammoth ivory
mammoth ivory handle, for example. In this case, it resembles the work of a jeweller.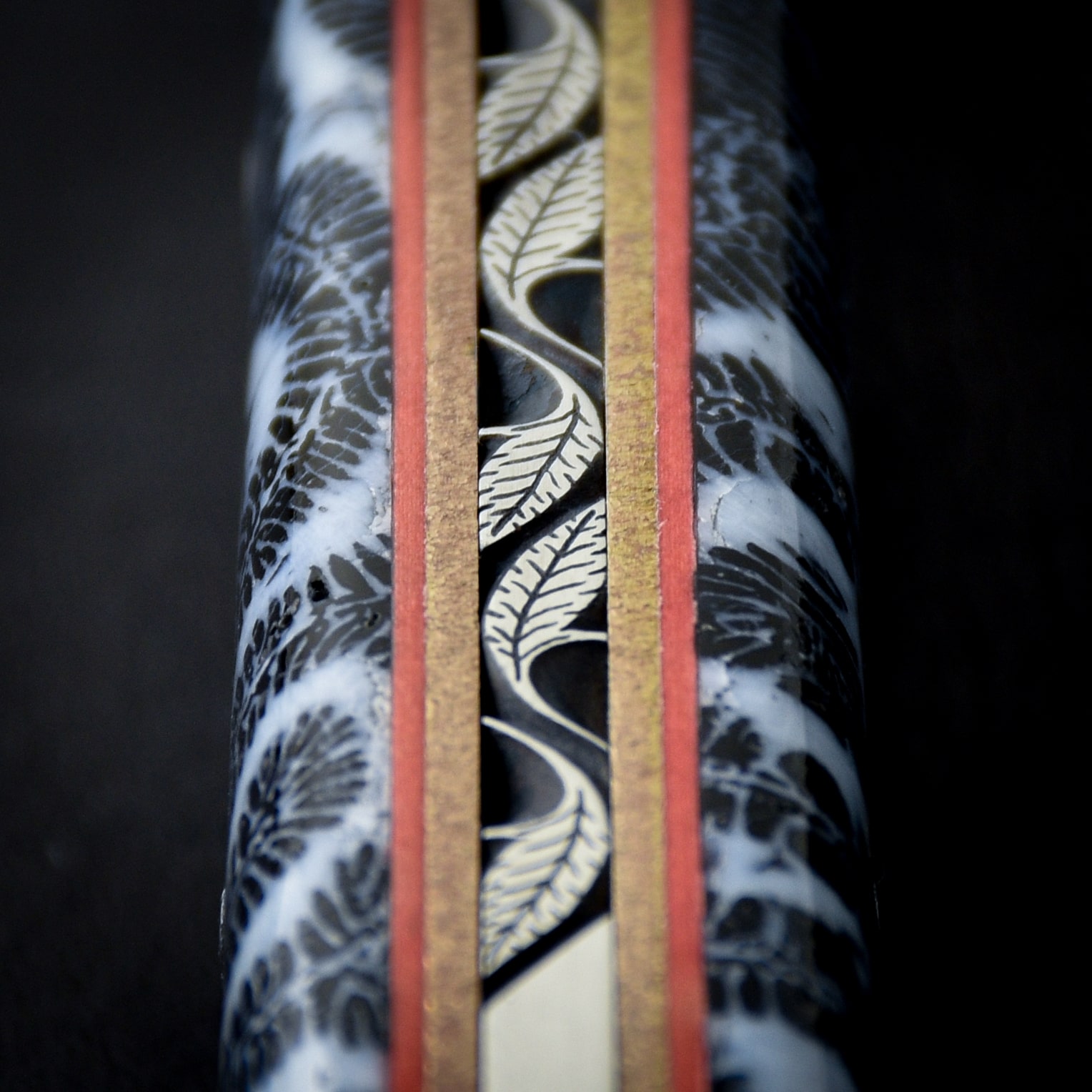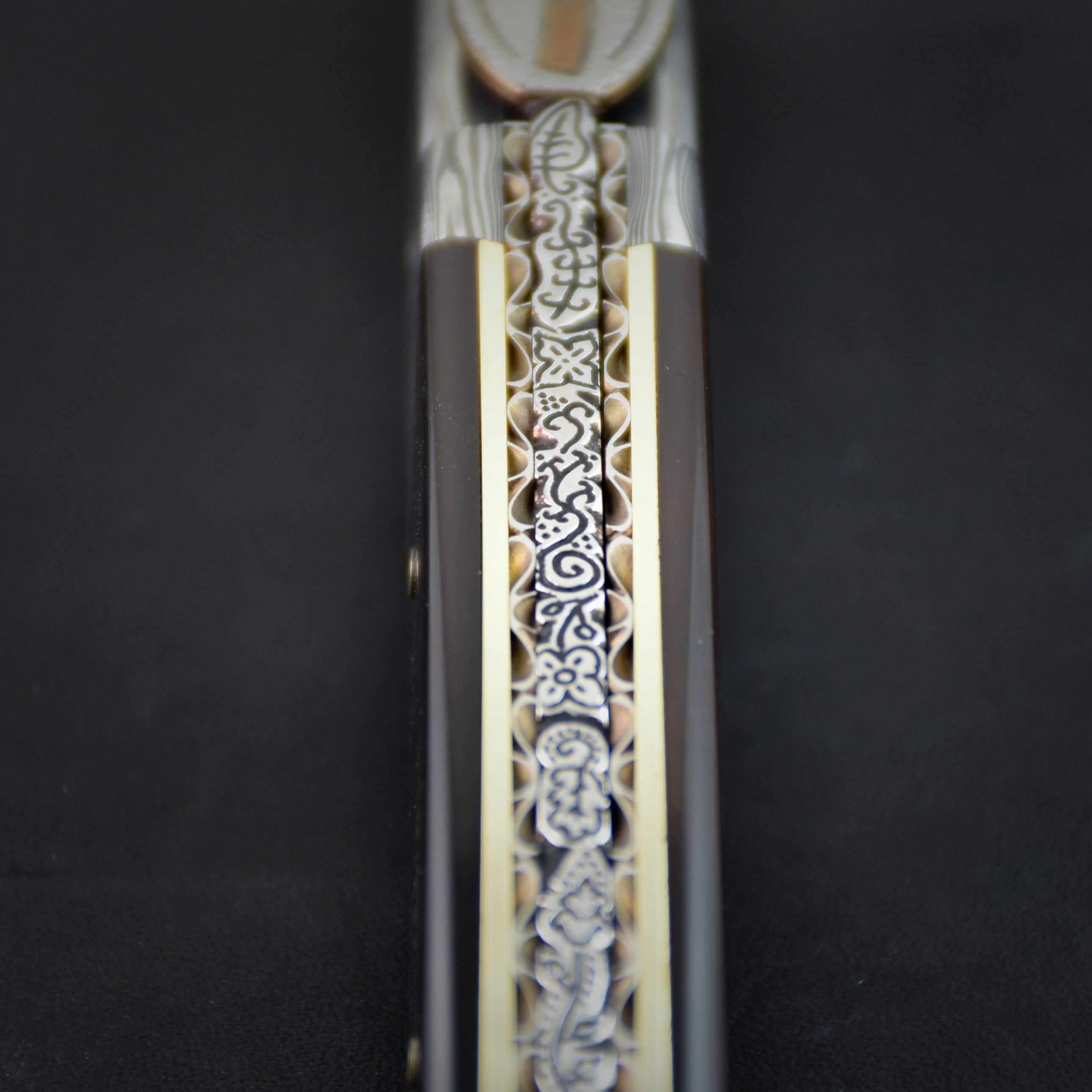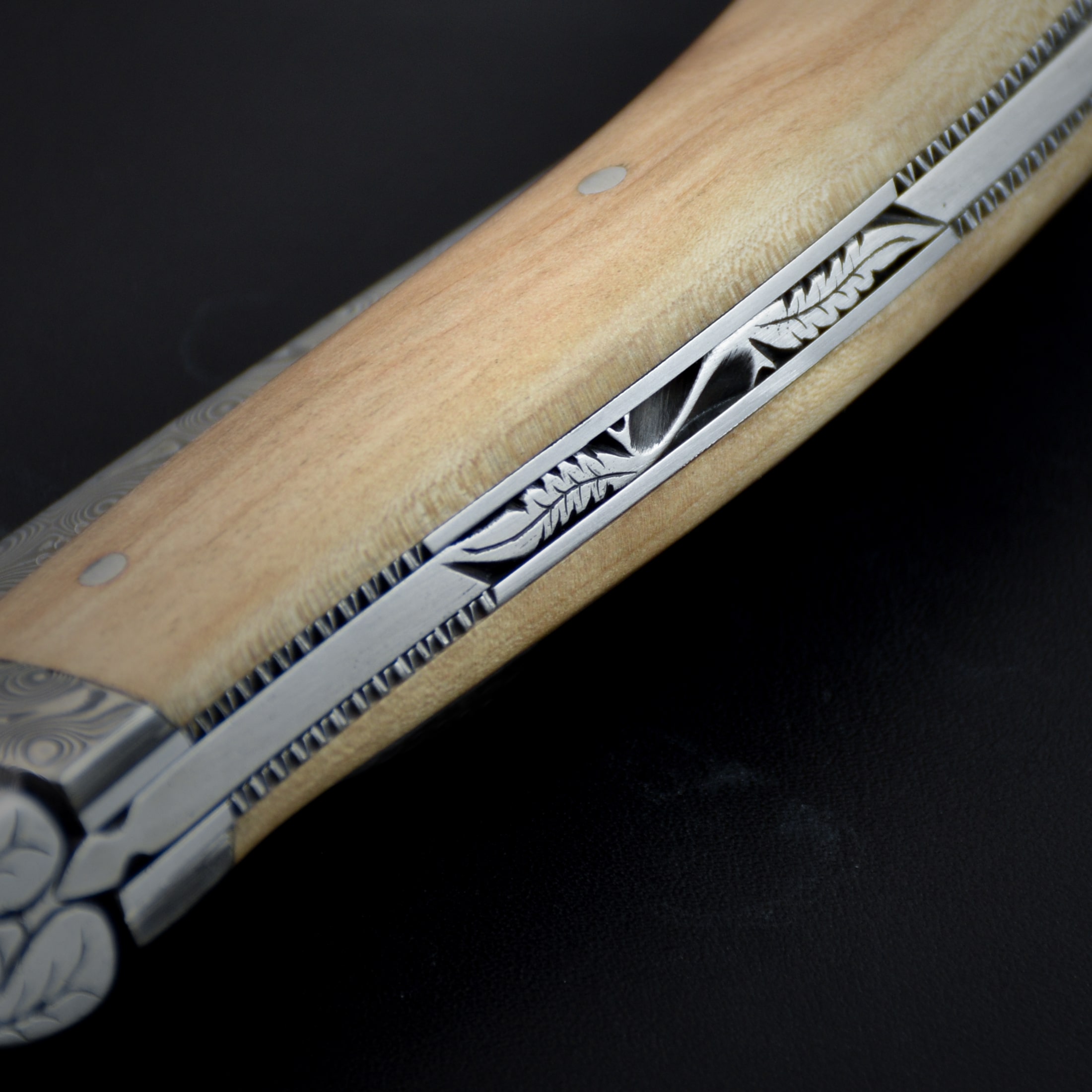 Examples of fine "guillochages".



The motifs are created with small burrs of different shapes and sizes
on the spring to create an exceptional decoration. The inside of the spring is also
is also adorned with this decoration, and the plates are also delicately
delicately engine-turned. The golden effect you can admire on the inside of our springs is created
created by heat treatment.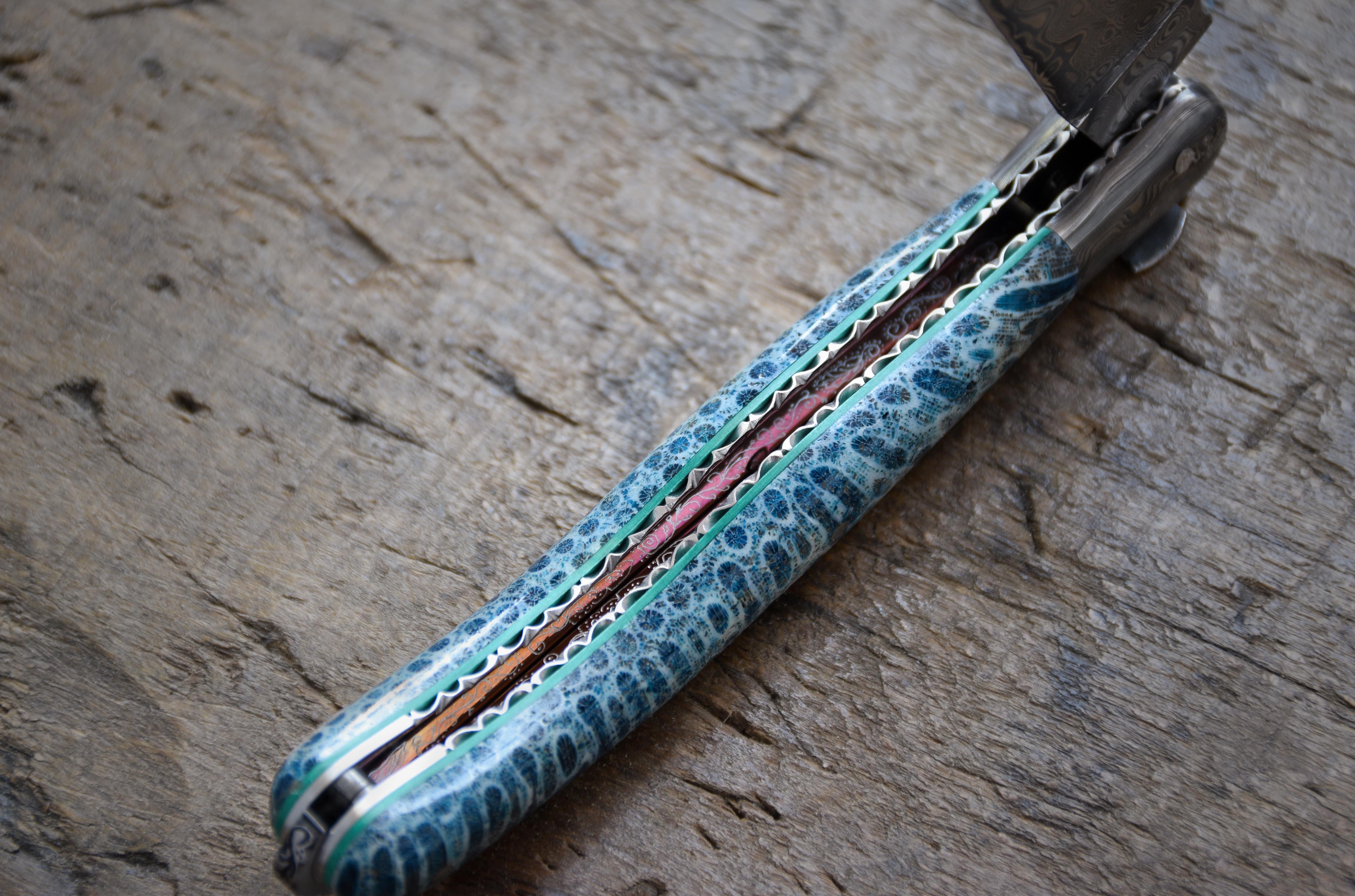 Intern "guillochage".



Infinite possibilities


We make a point of improving our guilloche technique every day
to offer you knives that are ever more sophisticated, and the talent of our
the rest.

Although all our guilloche work is carried out by hand, we are always on the lookout
innovative tools to perfect our technique.
a binocular in our workshop so that we can offer you even more
original guilloché engravings to create exceptional knives.
exceptional knives.

Don't hesitate to contact us to design together the guillochage that will adorn
your next Fontenille Pataud knife.