How to choose your knife ?

Among the vast choice of the market, it is sometimes difficult to choose the knife that will suit you perfectly. We are going to try to bring you a maximum of answers to help you to choose the blade which will accompany you every day at the bottom of your pocket or your bag.

A knife for which use?

The first question to ask yourself is what you will use your knife for. This tool allows you to perform many actions: eating, fishing, hunting, cooking... or simply, all of these. The important thing is to be able to perform all these actions with a good quality knife and in perfect safety.

Folding knives

When we talk about pocket knives, it is the folding knife that we often think of first. Indeed, the latter has the merit of sliding everywhere, even with an imposing size. It is easy to draw whenever you need it and can be stored in a flash.

With blade locking system

Many of our folding knives are equipped with a blade locking system. It allows you to meet all your needs while being perfectly confident. Indeed, this system avoids you an unfortunate closing of the blade on your fingers because this one cannot close itself. Once the blade is out, it stays in place and only folds back if you decide to do so. The blade locking system can be via a central or back pump mechanism, with a "palanquille" or by Liner-Lock.

Without blade lock system

Not all pocket knives are equipped with a blade locking system. They may be a little less suitable for multi-tasking and require a little more care because you will not have the benefit of a blade locking system. The use of this type of knife will be more adapted to people who are used to handling folding knives with forced lock. Be careful, this is not a guarantee, an accident can happen, so whatever happens always be careful when closing and opening your knife. They are very sharp!

Table knives

For a more classic use, at the table, why not opt for a range of table knives?
For an exceptional table, you can opt for a duo set composed of two regional steak knives for (very) small meals. For family meals, we offer services up to 24 pieces.
And to be well equipped in all circumstances, you can rely on our carving sets, cheese or butter knives.
As far as shape is concerned, the choice is yours, it's just a matter of preference. Whatever you choose, from the most classic Laguiole service, through the traditional deer antler handle, to the most original Saint-Martin or Issoire with its punch, quality will always be there.

The Corkscrew

Finally, always in the register of conviviality, but also of efficiency, our sommelier will be your perfect asset to open each bottle (always consuming in moderation) and this, whether you are a mere customer or a professional.
The Laguiole Magnum has a long, one-piece, two-stage lever for easy cork removal (patented system) and a curved, ergonomic handle for a better grip. Its refined and distinguished worm has a notch at its end for easy screwing and prevents the cork from swelling too much, so that it can be removed effortlessly. Appreciated by connoisseurs for its reliability and elegance, the "Laguiole" corkscrew is made only from luxury materials and the expertise of our master cutlers.

What size to choose?

Size is also an important issue. The first obvious clue is the size of your hand. A knife should fit perfectly in your hand, whether for comfort or safety reasons. A strong and large hand will prefer a 12 cm knife with a fairly large handle, such as a Rondinara Corse or a Sport model, while a smaller hand will prefer an XS (9 cm closed) or Pocket (10.5 cm closed) model.
The use is also a criterion to take into account, a Sport model of 13 cm closed will be ideal for an outdoor activity, while a Pocket or a Nature will be perfect to slip into a handbag or a satchel for a more urban activity.

What about a Damascus steel blade?

A Damascus steel blade can also be a serious criterion of choice. The aesthetics of this steel will make your knife an exceptional companion, without reducing it to a fragile or ceremonial knife, carefully hidden in a glass case. The Damascus steel we choose is stainless and can therefore be used without taking more precautions than with a classic stainless steel blade.
For more information, do not hesitate to consult our information pages on the classic, damascus and Suminagashi steels that we use to manufacture our knives.

Which options to choose ?

Each knife that leaves our workshop is unique, but it can become even more so with our various customization options. There are many options to help you create the knife that best suits you: corkscrew, personalized fly, engraving...

The corkscrew option

Some of our models are equipped with a corkscrew option, to make your blade even more multitasking.

The personalized bee

The fly is a well-known and recognized detail of the knife (especially on the Laguiole). Even if the famous bee is still a must, we offer you, depending on the model, flies that are out of the ordinary.
In the same way, some flies like those of the Capuchadou can be decorated with precious and semi-precious stones.


Personalized engraving

In-house specialty: the personalization of your knife (first name, initials, date...) by a superb engraving of the spring realized by a professional engraver.
Contrary to what is sometimes qualified as "engraving" on a knife already in the store, we offer you a real engraving with removal of material from the spring before its guilloche and heat treatment. Count on a delay of about one week for this work.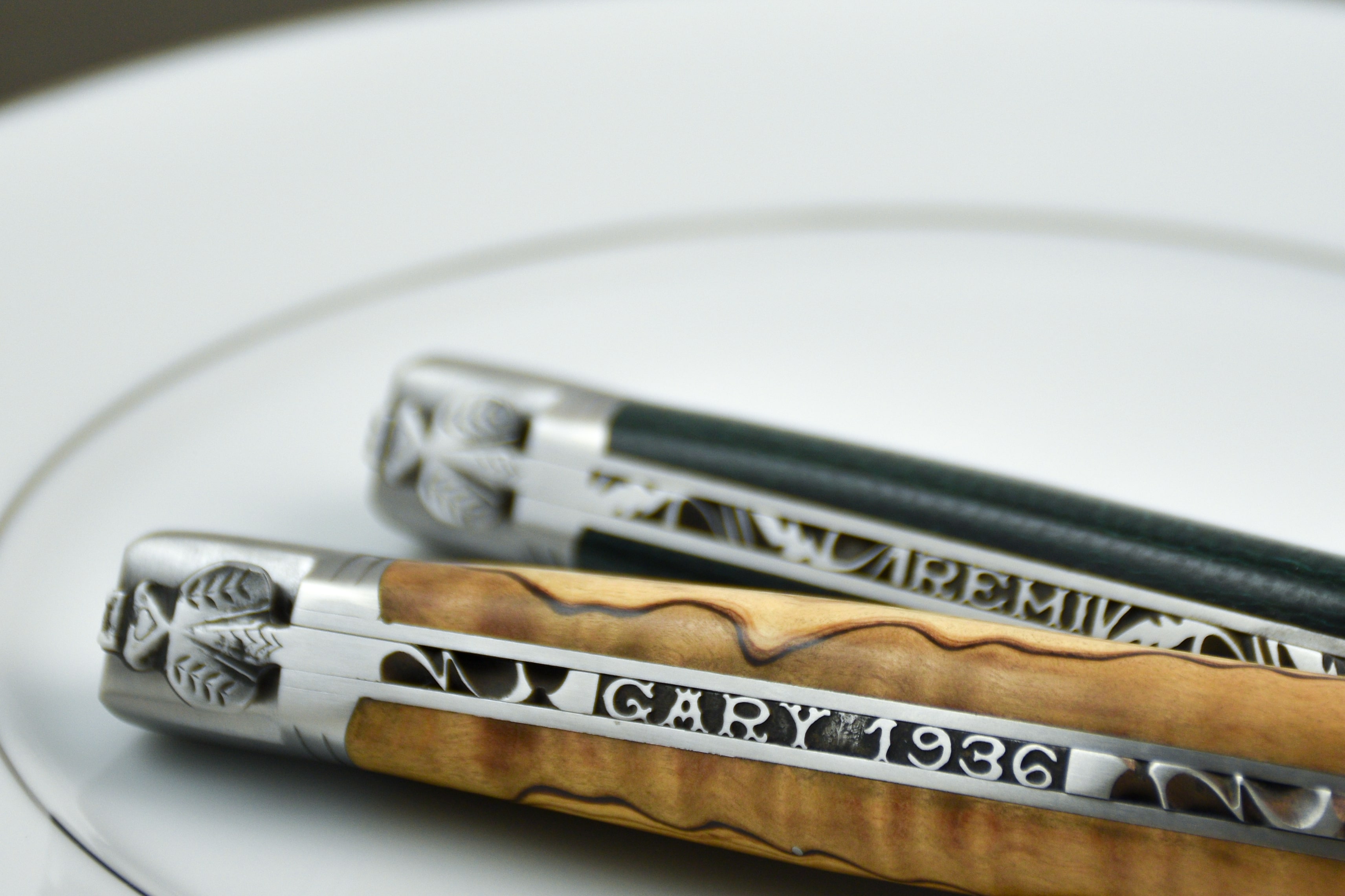 Find all the details and availability of options on the product pages.
Finally, concerning the global aesthetics of your knife, it will be up to you to choose! All you have to do is decide on the material of the handle. Whether it's animal, vegetable or composite, there is bound to be a material that suits you!

Which accessories?

Maintenance

The quality of manufacture of a knife is the important factor that will condition its life span, but not only. Indeed, if you want your knife to last for generations, you will have to maintain it properly. We can never say it enough, the dishwasher is forbidden!
To maintain your blade, a simple wipe is enough. For the maintenance of the mechanics, a few drops of specialized oil are enough.
For regular maintenance, you will need specialized sharpening equipment. For the rest, it's up to you, the gun or the whetstone will be your best allies.

Protection and transport

When you say pocket knife, you mean mop, and therefore you will sometimes need to provide an adequate sheath if the pocket or bag is not available to hold your knife.
Again, the size and model of your knife is important to consider when choosing a sheath with the right dimensions.
All of our sheaths are made of genuine leather, so it is normal for them to stretch with use (and to feel a little "tight" if you just bought it). Leather is "made" and will develop a patina over time.

As for your knife, there are several models of sheaths that will adapt to different uses.

- The pouch, simple and efficient, you just have to put the knife inside and slip it in your pocket or your bag.

- The belt sheath, for those who prefer to have their knife close at hand.

- The leather case, can contain up to 6 table knives.

- The collection case, can hold up to 12 folding knives, ideal for collectors.

- The case, can hold up to 6 knives, perfect for collectors looking for a sophisticated display.

- The wooden box, for a practical and solid storage.     It is the ideal option for a classic home storage in a drawer.

- The display case, perfect for displaying your knife or your wine steward.
What quality for my knife?

The number one criterion is obviously the quality of manufacture of a knife, which will make it a daily companion for many years.

At Fontenille Pataud, we do our utmost to design knives of exceptional quality. Our knifemakers are all experienced and we select the best materials to make exceptional knives.
For more information on the manufacture of knives in our workshop in Thiers, click here !